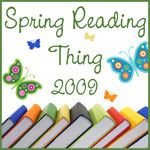 I followed a link in the
comment section
of another
blog
and it brought me to the blog called
Callapidder Days
. It was the first time that I had seen this blog, so I looked around it for a little bit and found a reading challenge that the blog owner is hosting. The challenge is running from March 23rd until June 23rd (Spring!). We are to write down a list of books that we want to read, finishing reading, etc. during that three month period. Then, write a post (as I am doing now) to name the books on my goal list and link it to her website on March 20th and then write another post on June 23rd and tell if I met the goal, etc.
So anyone that knows me personally knows that I do not read books for enjoyment. I know, sad, but true. I read a ton of books to Arin and Ella, but I just cannot get into it myself. On the other hand, I cannot get enough of reading blogs and surfing the internet and reading articles. A few weeks ago, my sister-in-law was here visiting for the week. She loves to read books. In the evenings and really throughout the day, she could be found in her chair reading through one of the books in a huge stack of novels that she brought with her for a five day stay (it was really amazing to me how much she read!), and I would be on the couch reading through one of my favorite blogs!
With that said, I am going a slightly different direction with my reading. I don't think "read 100 blog posts a week" would be acceptable on this challenge, although I could do that easily! So I have decided to take my love of reading to my girls and incorporate that into this challenge.
Last week, I decided to see how Arin (two and a half) would respond to me reading a chapter book to her. We check out a couple dozen children's books from the library at a time and she wants me to read those to her in one sitting, so that's why I decided to try the chapter books. I started with Little Town on the Prairie. I really wanted to start with Little House in the Big Woods, which is the first book in the Little House on the Prairie series, but I did not have that book. We read the book while Ella was napping (we read a lot of the children's books while Ella is awake to hear them too), so this was special one-on-one time for Arin and me. She sat still and quiet through three chapters, which was impressive to me. I don't have the book in front of me, but I know it was more than 20 pages of text with only the rare sketched drawing thrown in here and there.
Arin and I also have our own personal reading challenge that we have posted as a label on here "
100 Books Before Kindergarten
" and "
100 Favorite Picture Books
". I decided to keep on track with those challenges, we would incorporate them in with our Spring Reading Thing 2009 challenge.
So here is our list of books for the 3-month challenge:
chapter books for me to read to Arin
(thanks to my mom for letting us borrow these books)
Little House in the Big Woods
Little House on the Prairie
Farmer Boy
ABC, Like Me!
Amazing Grace
An Extraordinary Egg
Book! Book! Book!
Brown Bear, Brown Bear, What do You See?
Caps for Sale
Chicka Chicka Boom Boom
Come on, Rain!
Corduroy
Daisy 1, 2, 3
Fancy Nancy
Five Little Monkeys Jumping on the Bed
Goodnight Moon
If You Give a Mouse a Cookie
Jump Frog, Jump
Mouse Mess
Mouse Paint
Mr. Gumpy's Outing
The Hat
The Itsy Bitsy Spider
The Very Hungry Caterpillar
Stop that Pickle!
Parts
Princess and the Pizza
I Ain't Gonna Paint No More!
The Magic Hat
Millions of Cats
Chicken Chasing Queen of Lamar County
Lilly's Purple Plastic Purse
I Know an Old Lady Who Swallowed a Pie
Miss Spider's Tea Party
Froggy Gets Dressed
Blueberries for Sal
Tikki Tikki Tembo
The Day Jimmy's Boa Ate the Wash
The Rainbow Fish
Chicken Sunday
Chicks and Salsa
The Dot
Bunny Cakes
Tops and Bottoms